Towards the mass production of structural proteins
Spiber (Thailand) Ltd. is responsible for overseeing operations of a mass production plant on behalf of Spiber Inc. (Japan), where the powder that serves as the raw material in creating Brewed Protein fibers is produced. Additionally, the company is also responsible for research and development initiatives related to relevant production methods and technologies.

Spiber's Thailand Plant, located in the Eastern Seaboard Industrial Estate, Rayong Province, is a world-class structural protein fermentation and purification facility. In addition to producing Brewed Protein powder, the plant also serves as a base of operations for a variety of R&D and testing initiatives aimed at improving production efficiency and reducing environmental impact. The plant is also expected to serve as a model for further expansion of production facilities around the world as demand for our revolutionary new materials increases, and will serve to provide training and education regarding improvements in production technology and methods to these other plants.
Brewed Protein™

Expanding the range of sustainable materials

Brewed Protein™ refers to protein materials produced from plant-derived biomass using Spiber's proprietary fermentation process. Brewed Protein materials can be processed into a variety of forms, with examples ranging from delicate filament fibers with a silky sheen to spun yarns that boast features such as cashmere-like softness or the renowned thermal and moisture-wicking properties of wool. Brewed Protein materials have a lot to offer ethically, too―Spiber's in-house technology allows for the production of compelling animal-free fur and leather alternatives, and Brewed Proteins can also be processed into resins closely resembling tortoiseshell or animal horn. With potential uses ranging from medical applications to lightweight composite materials, the adaptability of Brewed Proteins means they are perfectly placed to support a wide variety of consumer needs.
Brewed Protein™ staple fiber
In addition to their diversity, Brewed Protein materials also offer several noteworthy environmental benefits. Designed to be non-reliant on petrochemicals as primary feedstock, and to not create or break down into environmentally-persistent microplastics, Brewed Protein materials are expected to have considerably less impact on marine ecosystems when compared to traditional plastic materials. Furthermore, the unique microbial fermentation technology used in Brewed Protein production shows considerable potential for avoiding ethical and environmental concerns including high greenhouse gas emissions often associated with commonly-used animal fibers.

Spiber is also pursuing environmentally-conscious endeavors at the organizational level, including the creation of a dedicated sustainability team and initiatives to build a sustainable material production process and business structure. We have also established in-house biodegradability testing capabilities and our first Brewed Protein™ fiber Life Cycle Assessment short summary report has been released on our website.

This combination of environmentally responsible design―from the production process to the material itself―with near-endless adaptability makes Brewed Protein materials an exciting new option for designers and creators looking to build a better, more sustainable future.
-> Spiber Inc. corporate site
Contributing to sustainable well-being
As human beings, our ultimate aim can be stated simply: to be happy. Human beings are social creatures, unable to live without interacting with others. We believe that the most rational way of turning happiness from a goal into a reality is by maximizing things which bring goodness to others, and minimizing those that do not. We must work to achieve our fullest potential in the environment given to us―in other words, fulfilling our reason for being. While our individual efforts may be small, the combined endeavors of many can bring about large benefits to society that return to us on a personal level.

For the Spiber Group, our every effort—from conceptualization to action—is nothing more than a means of maximizing our individual contributions to society. We are driven by the belief that the realization of protein-based materials will allow us to make the biggest positive impact on the world. Science and technology are the powerful tools to get us there, and forming a team—a company—maximizes our chance of success. With long-term vision, we must take the lead and tackle the problems others will not, either because they are deemed too complex or too risky. Our resolve is steadfast, and we are up to the challenge.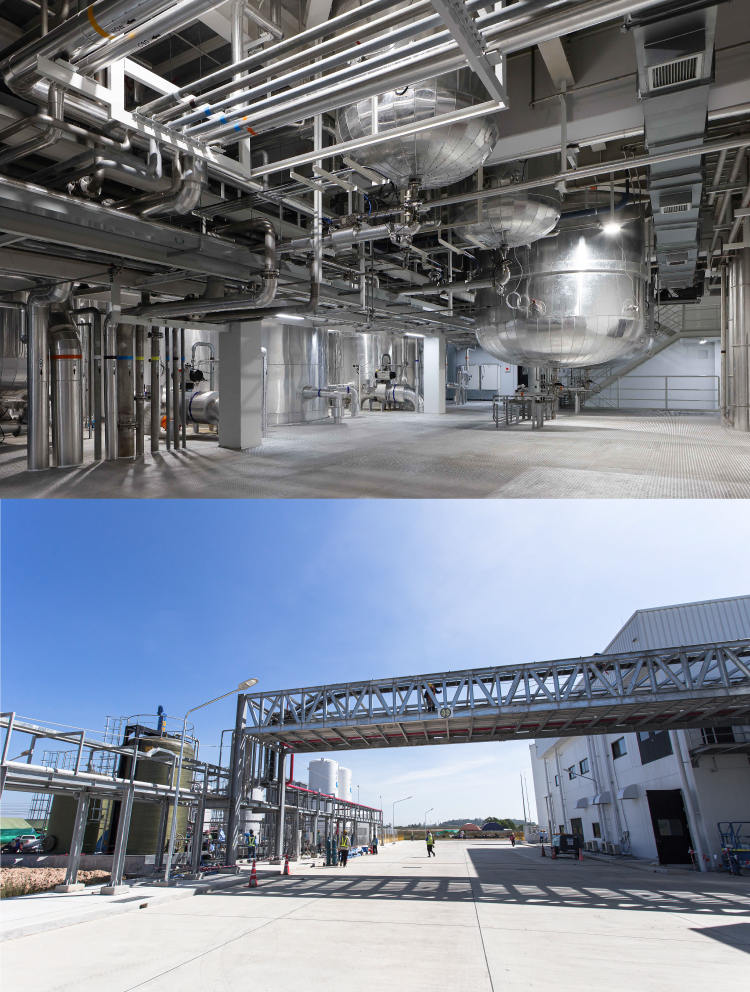 Corporate information
Company Name

Spiber (Thailand) Ltd.

Founded

November 21, 2018

Team

45 members (as of May 2023)

Business Domain

Protein fermentation and purification; research, development, and testing of production methods and technologies; knowledge transfer to other plants

Location

Eastern Seaboard Industrial Estate, 300/155 M.1 T.Tasit, A.Pluakdaeng, Rayong, 21140, Thailand

Managing Director

Junichi Sugahara

Board of Directors

Toshimasa Asai
Yu-Hsuan Miao
Takayuki Muro
Nobuyuki Hiroi
Leverage your talent
Spiber is commencing construction of a mass production facility for its Brewed Protein materials. The plant will be constructed at the Eastern Seaboard Industrial Estate in Rayong, Thailand. With a maximum capacity of several hundred tonnes per year, commercial production is expected to commence in 2021. The new plant will allow for large-scale protein fermentation and purification operations, and will also serve as a model for the commercialization of structural protein materials and for the development of other licensed plants in the future. We are seeking personnel who can balance large-scale plans with attention to detail, and have a keen sense of what the future holds for the manufacturing of new materials.
-> Learn more about joining Spiber